Marc Wolfley, the drummer for the Cincinnati Pops, and I were hired by Maestro Erich Kunzel to go on a tour to Hong Kong and Shenzhen, China, to perform concerts with the Hong Kong Philharmonic and the Shenzhen Philharmonic Orchestras. We left on November 1, and arrived back home on November 14, 2006.

To see photographs from the tour, click here.
Our first night in Hong Kong was a blur. We arrived exhausted from a 28 hour trip, capable of little other than falling into the car that took us to our hotel. I did my best to focus on the skyline as we rode. Even through blurry eyes at night, Hong Kong is visually spectacular, its landscape of skyscrapers appearing like thousands of towers of lights.

The Gang of Travelers
Marc Wolfley, Maestro Kunzel, Mrs. Kunzel, Elin Chu
We checked into the hotel and crashed, hoping to get enough sleep to be coherent for a 10:00 AM rehearsal with the Hong Kong Philharmonic Orchestra the next morning. The morning arrived too soon, but fortunately the hotel had a great breakfast buffet. I ate a huge breakfast, like usual when traveling, because I knew it would be many hours before we would get to eat again.
We were picked up at our hotel and driven to the hall. This ride was our first non-blurry view of Hong Kong's roads, which are crazy – turns here and there, hills creating apparently insurmountable obstacles, multi-leveled intersections, tunnels, bridges, and just to make things fun for an American, they drive on the wrong side of the road in Hong Kong. It is most likely a requirement that you are born in Hong Kong just to be a taxi driver there.
Soon after we arrived at the hall for the rehearsal, I was relieved to learn that my biggest worry – the rental gear – was a wasted worry. The gear rental in Hong Kong was smooth and professional. The music for this tour required me to play four instruments: electric guitar, steel string acoustic guitar, banjo, and mandolin. I brought my own banjo and mandolin on the plane (as they would have been nearly impossible to rent in China) and rented the 2 guitars and an amplifier there.
The rehearsal went smoothly. The Hong Kong Philharmonic is a highly professional orchestra with very skilled players who handled their parts well. The musicians all had a working knowledge of English, so when Maestro Kunzel spoke, they could understand him. There are many American and British members of the orchestra as well, so communication there was quite simple.
The language barrier hadn't yet raised its head. Hong Kong was a British colony until 1999, so English is widespread there. (That's also why they drive on the wrong side of the road.) It wasn't until we got to Shenzhen that language became a barrier.
The concert that night went very well and was well received by the audience. Afterwards, Maestro Kunzel signed hundreds of autographs in the hall, and then we were taken out to a restaurant for a magnificent feast.
The restaurant itself was a feast of new and startling sensations for me. We were led to our table through a large, packed room seating about 200 diners. We were the only westerners in the restaurant.
The tables in the restaurant were round, with a spinning plate in the middle that held large dishes and bowls of food. Everyone at the table shares the dishes by spinning the food toward themselves and dipping their chopsticks into the common food dish to place food on their plate. Double dipping your chopsticks is standard practice. During the entire trip, I never got used to this spit swapping method of eating.
As we walked through the restaurant, aromas, scents, smells and stinks flooded my nose. Every table we passed had some sort of food I didn't recognize, and the aromas were pungent and new to me. For the first time, I realized what the world must smell like to a dog hanging his head out the window of a car. The rush of new scents put a smile on my face.
There was the thud of an old stink as well, as a very large number of the people there smoke cigarettes, and the notion of a no-smoking section in restaurants has not yet entered the Hong Kong people's minds.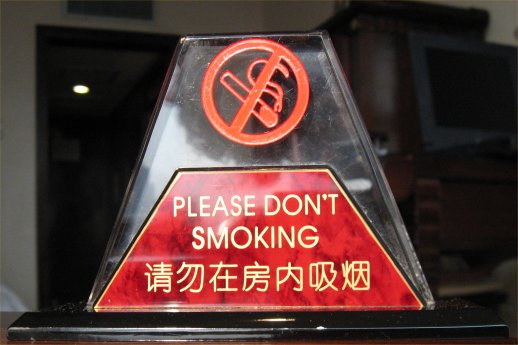 The "No Smoking" sign in my hotel room sat next to an ashtray.
As soon as we crossed the border from Hong Kong to mainland China, I knew we weren't in Kansas anymore. English disappeared. We were now dependent on Elin Chu, Maestro Kunzel's manager in Asia. Elin was translator, guide, bodyguard, shepherd, and mother to us all throughout the trip.
It would have been nearly impossible to complete the tour of Shenzhen without a guide like Elin who is fluent in both the language and the culture of business and life in China. Business happens differently in China than in the United States. The basics are all the same, but the Chinese have certain ways of interacting with each other that are difficult for Americans to understand at first.
I spent much of the trip marveling at the incomprehensible verbal activity going on around me. Chinese sounds completely different from any western language. It has many pitches to it, and a single syllable will have different meanings depending on its pitch or tone. At times, the words themselves sound like music.
I learned only a handful of words during the trip: "hello" and "thank you" were the words I used most often. I was relieved that the word "Tsingtao" was all I needed to order a beer at the hotel bar.
The city of Shenzhen is a marvel. It was a small, quiet fishing village until 1980, when the Chinese government decided to create the Shenzhen Special Economic Zone. Its growth since then is astonishing. It now has a population of about 10 million, and is home to hundreds of spectacular skyscrapers, bridges, roads, malls and other urban construction projects, all of which have been built since 1980.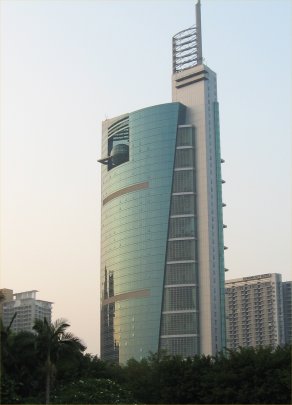 Shenzhen's architecture is spectacular.
We were kept in a bubble while in Shenzhen. We stayed at the Wuzhou Guest House, an opulent hotel that could have passed for a palace, and we were driven everywhere by either a driver from the Shenzhen Philharmonic, or by taxi with a guide. Elin insisted that we not leave the hotel unaccompanied, and for the most part, we didn't.
In Shenzhen, we met our second translator/guide/bodyguard/shepherd/mother for the trip: Xiaomei Zhang. (The "X" in Xiaomei is pronounced "Sh" and it rhymes with "how hay.") When Elin was busy taking care of Maestro Kunzel, Xiaomei took care of Marc and me. During one trip to a shopping district, I watched as Xiaomei walked a step behind Marc and me, as if she were protecting us. It made me smile to see this tiny woman protecting 2 big American males.
I say "big" because in China, I am big! One of the things I loved about China was that I felt tall there. Here at home, I am a man of slight stature. There, I towered over the majority of people I encountered. I really liked that.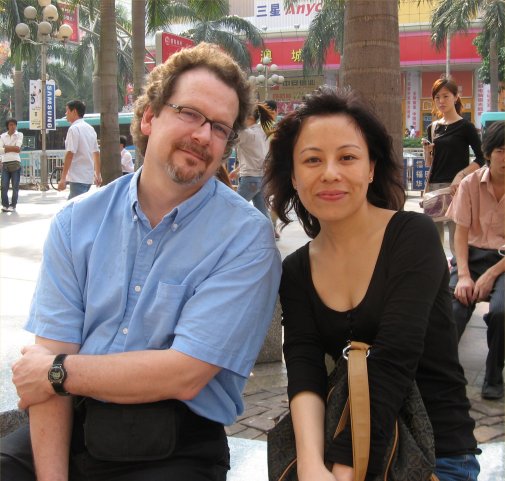 Marc Wolfley and Xiaomei Zhang
I gave one of my CDs (which has my website's URL on it) to Xiaomei as a gift during the week. The next time I saw her she said, "I look at your website." Then she blurted out "You have birthday party for pig?! You make cake for pig?!" Her voice was incredulous and on the verge of hysterical laughter, almost as if she wasn't sure whether to scorn or laugh at this crazy fellow who had a birthday party for his pet pig. I'm not sure if I made it clear to her that a birthday party for a pig is a silly thing in the US too. We were having too much fun laughing about it.
Our days in Shenzhen were spent rehearsing with the Shenzhen Philharmonic Orchestra. The Shenzhen Phil is a young orchestra. I guess the average age of the musicians is about 30. It was not the most experienced orchestra that I have worked with, but the musicians there were all dedicated professionals who worked very hard, practiced their parts, and were eager to please Maestro Kunzel. We had 6 rehearsals with them during the week leading up to the concert, and I was impressed by their attitude and willingness to work hard.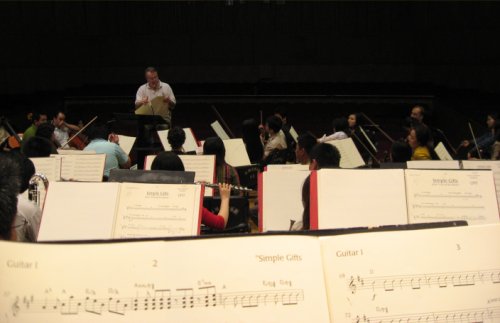 Maestro Kunzel rehearsing the Shenzhen Philharmonic Orchestra
Our nights in Shenzhen were spent eating and drinking too much, and laughing ourselves silly. Our little gang developed a nice travel rhythm together, and daily gluttony was a key part of our schedule.
My instruments were the focus of much interest throughout the trip. Many of the Chinese musicians had never seen a banjo before, and they loved it. One of the musicians, after hearing me play Dixieland banjo on a suite from "Chicago", pointed to the banjo and said in an almost reverent voice, "Dees very special instrument."
As I stood backstage tuning my mandolin before one of the performances, a group of about 10 stagehands gathered around me speaking rapidly while pointing at the mandolin. They appeared to talk openly about me to each other in a way that made me feel like a zoo animal. This went on for a couple of minutes until one of the stage hands leaned forward, pointed to the mandolin, and said to me something that sounded like "eee tal eee aaah no?" And I smiled and said "Yes! Italiano." (It didn't seem a good time to point out that there is a subtle difference between Italian and bluegrass mandolins, and that my mandolin is in fact a bluegrass mandolin. Instead, I just smiled.)
The people were the most fascinating part of the trip. There was one particular monk who stood out to me. I saw him several mornings in a row at breakfast in Shenzhen. His traditional monk's robe made him appear anachronistic in this thoroughly modern and brand new city. I was watching him one morning, wondering if a fellow with such old beliefs could adjust to modern life. I stopped wondering when I saw him reach into his robes to retrieve his ringing cell phone.
An elderly Chinese woman who was browsing in wonder at a modern shopping mall also caught my eye. Imagine everything that a Chinese woman of her age has been through – wars, depression, the rise of communism, the cultural revolution, the hardships and fear that were a daily part of life for so many for so long……and now the easy comfort of eating Haagen Dazs at the mall. I wanted to jump inside her head and see all that she has seen in her life.
A lone soldier, standing guard outside a government building embodied the recent changes in China in an amusing way. When I saw him from the front, I thought he was standing under an umbrella with an image of Chairman Mao, or some other government official. The view from the rear revealed a different story.

| | |
| --- | --- |
| | |
| Chairman Mao on the umbrella? | No...it's only a Colonel. |
One of the most fun events of the week was a press conference with Maestro Kunzel and about 20 members of the Chinese press. It was the first time I had ever been involved in a press conference, and I was actually a bit nervous. I answered only a couple of questions, as Erich was the star they were interested in. He handled it like a well seasoned senator, easily answering question after question from the reporters.
Immediately after the press conference, we had a press luncheon at which I met several of the Chinese reporters. One of the reporters, Zhong Li, spoke flawless English and we had a delightful conversation with her, learning a great deal about daily life in China. At the luncheon, I learned one more Chinese word, "Compai", which means "bottoms up." When somebody yelled Compai, you were expected to down your beer and pour another one. That luncheon consisted of Compai after Compai. I hadn't compai'd that much beer at lunch since college, but we did have a great time.
Food was a regular issue on the trip, further complicated for me because I am a vegetarian. As I learned during the trip, the Chinese in general don't understand vegetarians. (Neither do Americans.) The Chinese feel that a meal has to include some sort of meat to be complete. There were usually vegetarian choices of some sort on the menus, but they had to be sought out or special ordered, and my being a vegetarian created issues for everybody else at the table because we were all expected to share the same food, and they all wanted to swap spit over meat dishes.
Some of the food would be unrecognizable to Americans. Some of it was easily recognizable yet repulsive. One restaurant had a section of cages in which it kept food as fresh as it can be kept, i.e. still alive. The cages and tanks held ducks, snakes, fish, and various other creatures that a patron could select, and then the restaurant would kill and cook the critter for the patron's dining pleasure. Even the American carnivores among us weren't comfortable with seeing those cute little ducks in cages awaiting their appointment with a cleaver.
These items all appeared on menus during the trip:
Slapped Cucumbers
Deep Fried Pigeon
Glutinous Paste
Fried Duck's Tongue
Homely Fried Beancurd
Fried Deer's Nerve
Sauteed frogs with Pickled Peppers
The most disappointing aspect of life in Shenzhen was the quality of the air. The pollution there is worse than any I have ever encountered. The picture below was taken out the window of my hotel room about 9:00 AM. That is the sun, doing its best to penetrate the thickly polluted air. We all developed a scratchy throat within a day of arriving in Shenzhen from the poor air quality.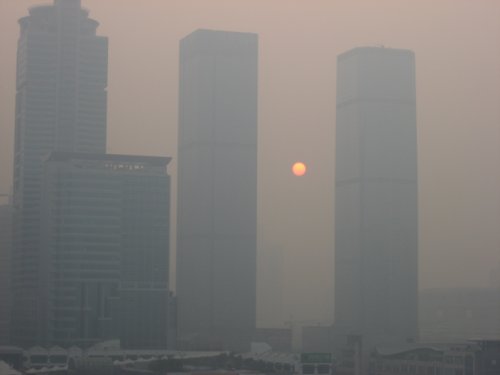 The glow of the morning sun, squelched by pollution.

I am not one to tell others how to live their lives, but I would like to suggest to the people of Shenzhen that air quality is something everybody can agree on. We all – richest to poorest – have to breathe. Improving the air quality is a worthy goal for everyone.
Our week in Shenzhen was capped by the concert, which was well received by the audience, who rewarded Maestro Kunzel and the orchestra with a standing ovation. Afterward, we headed back to the hotel for one more night of gluttony and giggling. We all had a good laugh going through the Chinese phrase book that Marc brought with him. The book was broken down by subject matter. The phrases listed under the category "Love and Sex" included a variety of words and phrases that just might come in handy, but it is impossible to imagine somebody stopping to look up these phrases at the exact moment they would be needed.
The next day we traveled back to Hong Kong for one more day of sightseeing before our return flight the following day. We walked until our feet hurt, then stopped for a nice meal and too much alcohol, and finally a ride on a British style double decker bus. Our driver began singing show tunes for us, which got Erich to yelling "Yahoooooo. Yahoooooo." (We were all silly at this point.) This prompted the driver to ask, "Are you from Texas?"