Tim Berens has created a unique position for
himself in the world of music:
orchestral guitarist.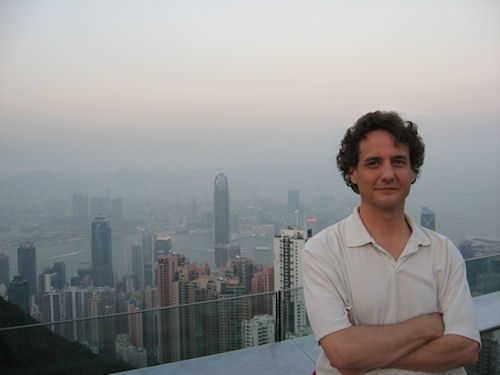 Tim in Hong Kong, the day after a concert with the
Hong Kong Philharmonic Orchestra

Tim Berens is an orchestral guitarist, an orchestrator and an active and avid jazz guitarist. Timís orchestral work has included performances on more than 40 CDs, national and international tours, nationally broadcast television programs, a performance at the 2008 Olympics, and 7 performances at Carnegie Hall in New York.
Tim is the guitarist for the Cincinnati Pops Orchestra, and he has performed with more than 20 other orchestras including the National Symphony Orchestra, the Philadelphia Orchestra, and the Hong Kong Philharmonic.
A versatile musician, Tim performs on the mandolin, banjo, and bouzouki in addition to the electric, classical, and steel string acoustic guitars. An accomplished jazz guitarist, Tim released Live at Sips Cafe in 2005, Nortonomy in 2001, and Another Rhumba for Armando in 1999 for Red Mark Records. He has performed regularly in jazz clubs for many years. Tim's CDs are available on CDBaby.com.
The Cincinnati Pops Orchestra features Tim as a soloist on many of its Telarc recordings, and Tim has toured with the Pops many times, performing in Japan, Taiwan, China, Singapore, and at Carnegie Hall in New York City. He has been featured with the Cincinnati Pops during many of its nationally telecast PBS specials. His performances of "Rhapsody in Blue for Two Guitars and Orchestra" received raves from audience members and critics alike.
Tim's orchestrations and arrangements have been performed by orchestras all over the United States, recorded by the Cincinnati Pops and performed by the Cincinnati Pops and the National Symphony Orchestra on their nationally broadcast PBS specials. Tim's orchestration made its Carnegie Hall debut in October, 2009 when Wayne Brady performed his arrangements with the New York Pops.
Tim, an enthusiastic but bad golfer, is a graduate of the University of Cincinnati College-Conservatory of Music.
March 14, 2010
CDs by Tim Berens
| | |
| --- | --- |
| Click me | Click me |