Originally published in the January 1995 issue of the newsletter of the Cincinnati Jazz Guitar Society.
Almost all jazz lovers in Cincinnati have heard Kenny Poole play and recognize him as a truly top-shelf player. His subtly expressive style feeds the listener's soul with rich harmonies and multiple voices that sound pianistic at times.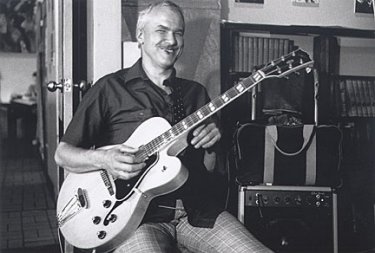 Kenny Poole
Photo by Bill Magness

Kenny started playing at 14, learning "corny old tunes" and then jazz standards. He dabbled in rock and roll but was never very interested in it because, he said, "I was more interested in musical content than impressing the girlies"
Kenny has played with a wide variety of the biggest names in the business, including James Brown, Joe Pass, Herb Ellis, Johnny Mathis, Eddie Jefferson, Chuck Mangione, Jack McDuff, Jerry Mulligan, and Sonny Stitt.
TB: What was your first guitar?
KP: This is gonna sound like the liner notes on a Chet Atkins album. My first guitar was a little student flattop guitar that I bought off of a friend for $5.00. I hooked up with his teacher, and six months later the teacher told me that in his forty years of teaching, I was the best student he ever had. I took to it like a bug takes to the air.
TB: How much time did you used to practice?
KP: You would only have to look at my report cards to figure that out. I didn't flunk anything in school, but I spent an awful lot of time playing guitar. I would probably put in 4-6 hours a day. I never had any rigid schedule. Some days I'd play 8 or 10 hours and other days I would only play a couple hours.
TB: Did you go to a music school?
KP: No. I stayed with my teacher for 18 months and I decided to leave because I was coming to him each week with stuff that was more sophisticated than he was playing.
TB: Do you do any teaching?
KP: I give lessons every night when I play, but the students don't show up.
TB: What is your favorite rhythm section?
KP: A drummer who doesn't know what sticks are and a bass player whose ears hang down to the floor.
TB: You mean a bass player who is a good listener?
KP: No, I mean I like bass players with long ears. (Laughter)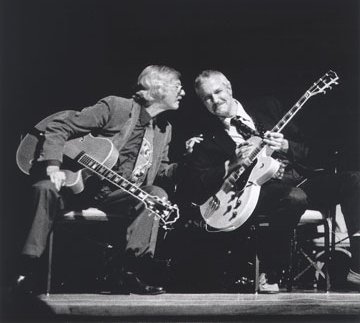 Cal Collins (left) and Kenny Poole
Photo by Bill Magness


TB: Let me ask you a personal question. Why aren't you more famous than you are?
KP: You'd probably have to ask the listening public. That's a much deeper question than you are implying. There's a personal aspect to that. I've never been hung up on myself or hung up on promoting myself more than I thought was appropriate.
TB: How much promotion do you think is appropriate?
KP: It depends on how much of a "star" you want to become. If you want to become a big star, you have to appeal to more people and unfortunately the musical taste of most people is not a taste that I am interested in appealing to. I realize that that's a mild slap in the face to some portion of the general public, but I never worry about that.
For instance somebody comes up to me and says "Do you play any Eric Clapton?" My pet response is "No, he doesn't play any of my stuff, so I don't play any of his."
Basically I'm a local. I have strong family ties. I'm not married but my parents and my brothers live here. Because my parents are aging, I won't desert them for the sake of what might be left of a career at 47 years old. I have a career around here and that suits me as OK. There are other things more important than a career, like loyalty to those who love you.
TB: Have you done any recordings?
KP: I've done some, but I've never done one on my own. I get a lot of questions about why not.
TB: Well, why not?
KP: God, that's all the world needs. Another guitar record. Just one more, please. I would blow my low profile. I like a low profile. You can get by with a lot if you have a low profile.
TB: You do like classical music don't you?
KP: I love classical music. I don't play it. I'd only ruin it. I dabbled with classical guitar a long time ago, but I decided it didn't give me the type of adventure and I underline type of adventure that I wanted in playing. Classical music requires an entirely different type of discipline. The physical disciplines are similar but the attitudinal disciplines are completely different.
TB: What do you think about the Cincinnati jazz scene compared to other cities?
KP: I've come to know from experience that Cincinnati is oddly and fortunately peopled with an unusual percentage of very talented musicians. I've heard that from people who have done a lot of travelling.
TB: As a full time player, how do you balance the needs of your bank account against the needs of wanting to play good music?
KP: I learned something from Jimmy McGary 20 years ago when we were talking about the economics of or lack of economics of playing jazz for a living. It was, if you learn early on to live as if there is a depression, you'll be OK. In other words, I can live on a shoestring.
TB: Do you take only the gigs that you want to play?
KP: No I take whatever comes along that I feel that I am right for. If I feel the customer would be better off with somebody else, I will recommend him to them.
TB: It's interesting that you use the word customer.
KP: Well, that's what they are. And I try to take care of the customer all the time. The customer pays 100% of everything. The customer pays all yours bills and all your pleasures. If you take care of the customer, you will always have customers. It's just like a store keeper. They come into your store and they buy your music.