Originally published in the Volume 1, Issue 1 of the newsletter of the Cincinnati Jazz Guitar Society.

Bruce Forman, the San Francisco based jazz guitar phenom,

has little formal education on the guitar. He started playing professionally right out of high school and learned on the gig. His teachers were the other players on the stage every night.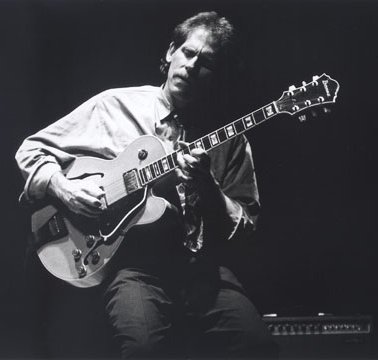 Bruce Forman
Photo by Bill Magness


Those teachers included many of the finest jazz musicians around, such as Richie Cole, Eddie Jefferson, Freddie Hubbard, Bobby Hutcherson, Ray Brown , Grover Washington, Stanley Turrentine, and Cedar Walton.
TB: What is your opinion of jazz critics?
BF: It depends from critic to critic. Generally speaking, I don't find them the most knowledgeable people although some definitely are. I just wish they'd be a little bit more informative and less critical. My critique of critics is, sometimes I read a review and I don't even know what the music would have sounded like. All I know is that the guy didn't like it or did like it. And frankly I could really give a shit. What I want to know is what style, what background, where are they coming from, what kind of tunes they're playing. So I can make a decision whether I want to go get the record or go to the concert. I think the important thing in critique should be information and not opinion.
TB: Do you enjoy traveling?
BF: Yeah I do. I especially enjoy meeting new people and getting to play for new audiences. That sort of keeps the music a little bit more alive and more exciting and definitely gives a new attitude to it. It's nice to be home too though.
TB: Who is your favorite non-guitar player musician?
BF: Definitely Charlie Parker. Trane, Sonny Rollins, Johnny Griffin, Lee Morgan.
TB: Who is your favorite guitar player?
BF: Today I would say Wes. But it changes day by day.
TB: How many tunes do you know?
BF: God I don't know. Probably a thousand or two. I don't know. Once I tried to write them all out for somebody who had a gig and was tired of trying to think of tunes. I think I stopped at about four or five hundred and it was nowhere near all of them.
TB: How long did it take you to learn all those tunes?
BF: Well. Until now. I'm always learning new tunes. You're on the gig, people play tunes and you learn 'em.
TB: Can you just hear a tune once and have it?
BF: Generally speaking, yeah. Depending upon how difficult it is or what type of tune it is. Like some Wayne Shorter tunes might take me a second to really figure out harmonically, but tunes that work in basic, standard ways, I can hear them right off the bat.
TB: Do you memorize the melody right off the bat, too?
BF: Pretty much, yeah. You know, once or twice through.
TB: Have you ever really concentrated on pick technique?
BF: No I never really paid that much attention to it. I was always basically just going for a sound. I always played the note I heard. My technique developed out of that. I do know that I have a lot of control of my right hand for dynamic control. And I think that's a very integral part of being able to swing. You know, shaping a phrase dynamically. I think that's one of the most overlooked aspects on the guitar, and why a lot of guitar players have so much difficulty swinging. The shape of the phrase dynamically is equally important to the placement of the notes rhythmically. It's just like a phrase or a sentence you would speak. Certain words have emphasis. Other words are basically passing tones. If you don't have that sort of control of your picking, then you're not going to really shape a phrase which means it's not going to swing as hard. It's not just putting the notes in the right place - it's putting them in the right place in the right way.
TB: Do you do much solo playing?
BF: Yeah, I have been lately, and I really enjoy it. It's kind of a thing that's new to me over the last 5 or 10 years. I've allowed myself to do it and enjoy it. And I'm also hearing more and hearing better.
TB: The tricky thing there is hearing more than one line at a time.
BF: Yeah hearing everything. Hearing the bass note you want to go along with this. With guitar you're kind of juggling all these things. You're never really doing them all at once, but you're giving the impression that it's happening.