This interview was originally published in the July, 1995 issue of the newsletter of the Cincinnati Jazz Guitar Society. Cal passed away in 2001. He will be missed.
It is difficult for many people to hear the words jazz guitar and Cincinnati in the same sentence and not be reminded of Cal Collins. Cal has been one of the highest profile jazz guitarists in Cincinnati for years. Calís fame outside of Cincinnati did not begin until he was about 40.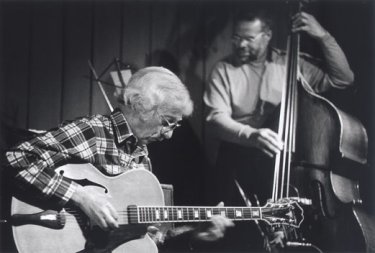 Cal Collins with bassist Jim Anderson
Photo by Bill Magness
His first big break came when Benny Goodman asked Cal to join the Goodman band for a tour. Several years later, Cal landed his first recording deal for Concord and his popularity has grown steadily since. He has played with many of the biggest names in the business including Bill Evans, Rosemary Clooney, Benny Goodman, Woody Herman, Ray Brown, Monty Alexander, Stan Getz, and Mel Torme.
When you hear Cal play, you might be reminded of a brilliant chef who loves to use barbecue sauce in his food. Calís playing is an intricate weave that consists of the best of the jazz tradition intermixed with his roots as a bluegrass musician. Cal is an avid gardener who also loves to fish and fly ultra light aircraft.
TB: Letís start off with "Cal Collins, the early years" Ė the story that you tell all the interviewers.
CC: (Laughs) OK. Iíve never had any formal training in music at all. Not one iota. Most of my family, the male side, were professional pilots. I got my license at 16. And my career at that time was aimed toward being a professional pilot of some kind. But all that time I was playing, of course, and the jazz and the guitar won out Ė big time.
TB: Did you ever parachute?
CC: Oh yeah. We used to do it for fun. I was in Fort Benning for a while and they have jumping towers down there. On weekends we used to get drunk and go up on the tower and jump off. (Laughs)
TB: Thatís quite a combination Ė alcohol and parachutes. So. You never even had a guitar teacher?
CC: No, I was playing guitar and mandolin when I was 4 years old. I grew up in a bluegrass family and played quite a bit of that. The uncles and the older cousins and my dad played and strummed around. So music was always around.
TB: You just learned by osmosis?
CC: Yeah, thatís it.
TB: Iím trying to picture the transition from bluegrass to jazz without any formal training.
CC: Itís very easy. Bluegrass is the jazz of country music. Thereís a lot of very intricate things going on in bluegrass music. For instance, these uncles and older cousins that I was talking about who were real good bluegrass players, they absolutely knew before anybody else did who Django Reinhart and Stephan Grappellie were. Itís very similar music. Bluegrass is off the top of your head and itís a very intricate and very fast and technical type of playing.
TB: Did you just wake up one day and say "I think Iím going to play jazz"?
CC: I donít think so. It just kind of evolved. I used to spend a lot of time with my grandparents. I had my own radio up in my room and at that time, you could turn on the radio to just about any station in the world and you could get Nat King Cole, Count Basie, Woody Herman, Duke Ellington. Everything you turned on was good music. And with the influence of bluegrass and listening to the Hot Club of France, it just kind of grew and grew and grew. The very first time I heard Art Tatum and Fats Waller play piano, I thought, "If I could play like anybody, that's who Iíd like to play like."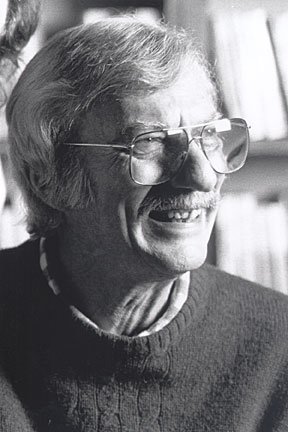 Cal Collins
Photo by Bill Magness
TB: At what age was your first professional gig?
CC: 5
TB: How much did you get for it?
CC: $5.00 Ė A hell of a lot of money then. I was five years old and I had a little small guitar and I played at Westport, Indiana at a little bitty outdoor theater. They had an old Mickey Mouse cartoon on before. I got on the stage and I played and sang "Hand Me Down My Walking Cane." I was 5 years old and they made damn sure I got a dollar for every year that I was. I had the $5.00 for about 15 years.
TB: What was you first guitar?
CC: Sears and Roebuck Roy Rogers model. It was all plywood. It had real good action on the neck. It was painted gray with pictures in black relief of Roy and Trigger. (Laughs)
TB: Do you still have it?
CC: No. I wish I did. It would be worth a . . . well 20 cents. (Laughs) My grandma Collins bought it for me and I think she paid $4.98 for it.
TB: What was the weirdest gig you have ever had?
CC: I played at a county swing type place and the bandstand had a wooden frame around it with chicken wire with a door. You could lock the door if you wanted to. There were a lot of beer bottles and bar stools thrown around the place about 11, 12 oíclock at night. But probably the weirdest gig I ever had was when I went to Stockholm, Sweden for a one nighter. That was the strangest thing that ever happened to me.
TB: Youíve attained a bit of fame now. Do you enjoy it?
CC: Oh yeah.
TB: Do people recognize you in airports and clubs?
CC: Oh yes. Overseas, especially. In Australia, Japan, Europe, they know exactly who we are. In the States itís the same at the Jazz Festivals. But overseas, the difference is incredible. Everybody over there knows who you are and everybody over here doesnít. They know American jazz musicians much more than Americans know American jazz musicians here. Itís a fact of life.
TB: Who do you like to listen to?
CC: I like that real good straight ahead jazz, bebop jazz. I never tire of George Van Eps. But mostly my favorite jazz musicians are piano players. I was influenced more by piano players than I was by guitar players. I was trying to approach the guitar like a piano player Ė play some bass lines, comp in the middle, melody on top.
TB: This is something that a lot of people around Cincinnati talk about: Why isnít Kenny Poole more famous than he is?
CC: He doesnít choose to be, that asshole! He is really one of my favorite guitar players in the whole world. He prefers to stay here and do a little thing here and a little thing there. He plays as well as anybody.
TB: Is there something in the water in Cincinnati? There is just an unusual number of good jazz guitarists in Cincinnati.
CC: Well maybe itís catfish pee from the Ohio river. Iíve talked to people from the west coast to the east coast to way down south who proclaim that Cincinnati is one of the best kept secrets in the country as far as jazz enthusiasts and the support of jazz. Cincinnati has some real bona fide jazz clubs and some real bona fide jazzers.