Originally published in the March, 1997 issue of the newsletter of the Cincinnati Jazz Guitar Society.
Wilbert Longmire, one of the finer gems mined from Cincinnati's rich vein of great jazz guitarists, began his musical life in the west end of Cincinnati in what he calls a "street corner symphony" - a group of young people who gathered together to sing. His first foray into the world of instrumental music was as a violinist in his school's orchestra.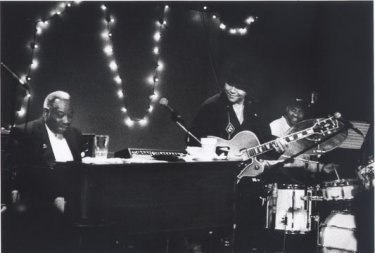 Wilbert Longmire with organist Hank Marr and drummer Art Gore
Photo by Bill Magness
After several years of studying and performing classical music, Wilbert turned his attention to the guitar. His mother bought his first guitar, a Harmony, for $86.50 (including amplifier) from Ben's Department Store. He learned to play a couple of songs, figured he had accomplished his goal and then set the guitar down for a while. When a musical group called The Students invited him to play with them, he began to play the guitar again seriously. After doing shows with them at the Motown Revue, he got a taste for the music business and began working with other local players.
Wilbert has released several recordings as a leader and has performed with a wide variety of the great jazz artists of our day, such as Jack McDuff, Billy Eckstine, Lou Rawls, Jimmy Smith, Art Farmer, Herbie Hancock, and Larry Corryell. Wilbert's most recent recording is with organist Hank Marr.
TB: I heard a couple cuts off of your CD with Hank Marr. I bet that was a fun one to do.
WL: It was fun and very easy too, surprisingly, since we hadn't played together in perhaps some 30 years. We did the recording in one day, and the interesting thing about the recording was, we hadn't played together in 33 years, and the only prelude to us getting together was a job that we got together. We just played together one night in Columbus. We had no rehearsals. We went to Louisville to do the recording and we went from one tune to the next straight through. We never repeated any song, except one, which was Misty, and the only reason we repeated it was because Hank wanted to do a ballad and we wound up swinging the cut. We did one take on everything. It was more like a jam session than a recording. We had a lot of fun playing and it shows on the record.
TB: What was the route that took you from working as a side man to being a headliner?
WL: Well, I already had played with quite a few local players as a side man around here, including the late Jimaal Halbert, and I was listening to all them play, and then quite naturally, I had my own ideas, and it wasn't until I had met Hank Marr that I heard a man who truly had a lot of great arrangements. I made my first appearance on record with him. After I had seen people like Hank Marr and Jimaal Halbert and Johnny Smith, I began to get my own ideas which led me to believe I was going to have to branch out to try that, and that's when I became a leader.
The first [recording] I did as a leader was on the west coast with Gerald Wilson. It was called Electric Connections, and that was in '68. Since then I've recorded as a leader.
TB: Did you have good success commercially?
WL: People tell me that when I go all over the world, and they also tell me my records are being played as we speak in places like the Phillippines, Holland, Germany, Japan. I get statements today from some of those works. I haven't recorded since 1981 with Columbia records, so you figure that's 17 years later and I'm still getting statements. So I would like to think people still remember it, which is amazing to me.
TB: That must be a satisfying feeling.
WL: It is really satisfying and surprising. People like to use the word "commercial" as if to say that's something less, which I don't agree with, because for me most of the decisions that I have made throughout my career have not been financially motivated. As a matter of fact it has hurt me for that very reason. I like to do things melodically that I enjoy, instead of just bebop or avant garde. I might want to do an album that's just jazz, or I might want to do some pop tunes. I just like to have the freedom as an artist to express myself any way that I feel I am reaching the true depth of soul.
TB: Which kind of music do you think connects best with your audience?
WL: My audience is a strange mix because my style has a touch of blues, gospel, jazz and rock. And the funny thing about it is, these are all the experiences I have had in my life. So I would consider that I'm playing truly the life that I lived and the environments that I have come from as a performer.
I like playing jazz when I'm playing it. I like playing soul when I'm playing it. The only thing that I like to do is whatever style of music that I'm playing. I like to play it for the truth of what it's all about.
There might have been a time before that I was playing primarily for myself, and then at some point after playing so many years, I've become less selfish, and become interested in the pulse of the people. We're here not just merely for ourselves. I feel I am giving to the people this gift that I've been told that I have, which is a God-given gift.
You can't play to nobody. You can't play just for yourself and wind up standing up there and there's no one there to observe you. Without the audience, there is no reason for me to get up on the stage.
TB: Yeah. You might as well stay at home. I play just for myself all the time but I do it at home.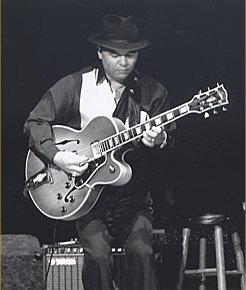 Wilbert Longmire
Photo by Bill Magness
WL: Sure, and I love playing by myself. It gets a little bit boring because I've heard myself for so many years.
TB: You know all your licks.
WL: (Laughs) I know all my stuff. And another thing - it would be hypocritical of me to say I'm not interested in people coming to hear me when I get up on the stage and say "hey look at me, I've got something to say." And I think all performers should think about that.
TB: You have not had much formal guitar training?
WL: Well, I spent 4 years learning how to read Bach and Beethoven and the great classics. I consider that very formal. But, that was with the violin. When I got the guitar, I had to retrain myself and I'm self taught from then on. It wasn't until some time later that I decided to go back and teach myself to read on the guitar, you know, but not enough to hurt my playing (laughs).
TB: Can I ask you a personal question? I'm curious about how old you are.
WL: I've been perpetually 17 for the last 30 years! (laughs)
TB: What was the weirdest gig you've ever had?
WL: The weirdest gig was on New Year's eve some years ago playing straight trio beautiful jazz ballads for an Appalachian audience. The party didn't start swinging until I did an Elvis impersonation as a joke. And they went wild and we wound up playing that for the rest of the night. Another weird gig was when I was playing for a Gypsy party and they started throwing fruit. It wasn't just fruit - it was other foods. There were fish heads flying by and all kinds of stuff. I have no problem with any types of nationalities. I love all types of people, but that was a bit much. Especially when you start getting fish juice on your L5.
Below are some more interesting quotes from Wilbert.
It's difficult for us musicians to enjoy music as lay people. In order to be a good musician, you must study certain things, which requires you to notice certain things. And it's hard to not notice them when you're in the audience listening to another performer.
Cincinnati has one of the finer crop of guitar players anywhere in the world. I don't know how that came to be, but I believe that's the truth.
You really got to marry this thing we call music. You can't date it.
I live the life I love and love the life I live.